We regularly hire out our Vintage London Routemaster, to return to its home turf in the heart of London to complete a private vintage bus tour for our customers. On a crisp winter afternoon on Saturday 29th December 2015 we did exactly that. Our London Routemaster completed it's first vintage bus hire since a fresh paint job; is there a better way to do so then with a bespoke vintage bus tour of London (click here for an example of this service!)
During the quoting stage one of our iconic heritage vehicles, a lot of our customers ask us 'what route would you recommend for a tour of London'? Several of our staff have a background in London bus tours and we have great expertise in this area. On the 29th Dec, this is exactly what happened; we recommended a bespoke route for a private vintage bus tour of London (with a few stop offs in between for shopping of course!) The private bus tour of London was completed as follows:
Our first stop was just outside Oxford St. We dropped off our customers at their desired location so they could have around an hour of the Christmas shopping sales. This is a good location for a quick drop off as it allows us to use the bus parking facilities at Park Lane, whilst our customers enjoy their shopping trip. We then pick up our passengers again and we carry on with the private bus tour of London! Some passengers like to bring snacks and hot drinks to enjoy on the journey, all we ask is that you 'be careful and hold on tight', as the conductor says as the Routemaster departs.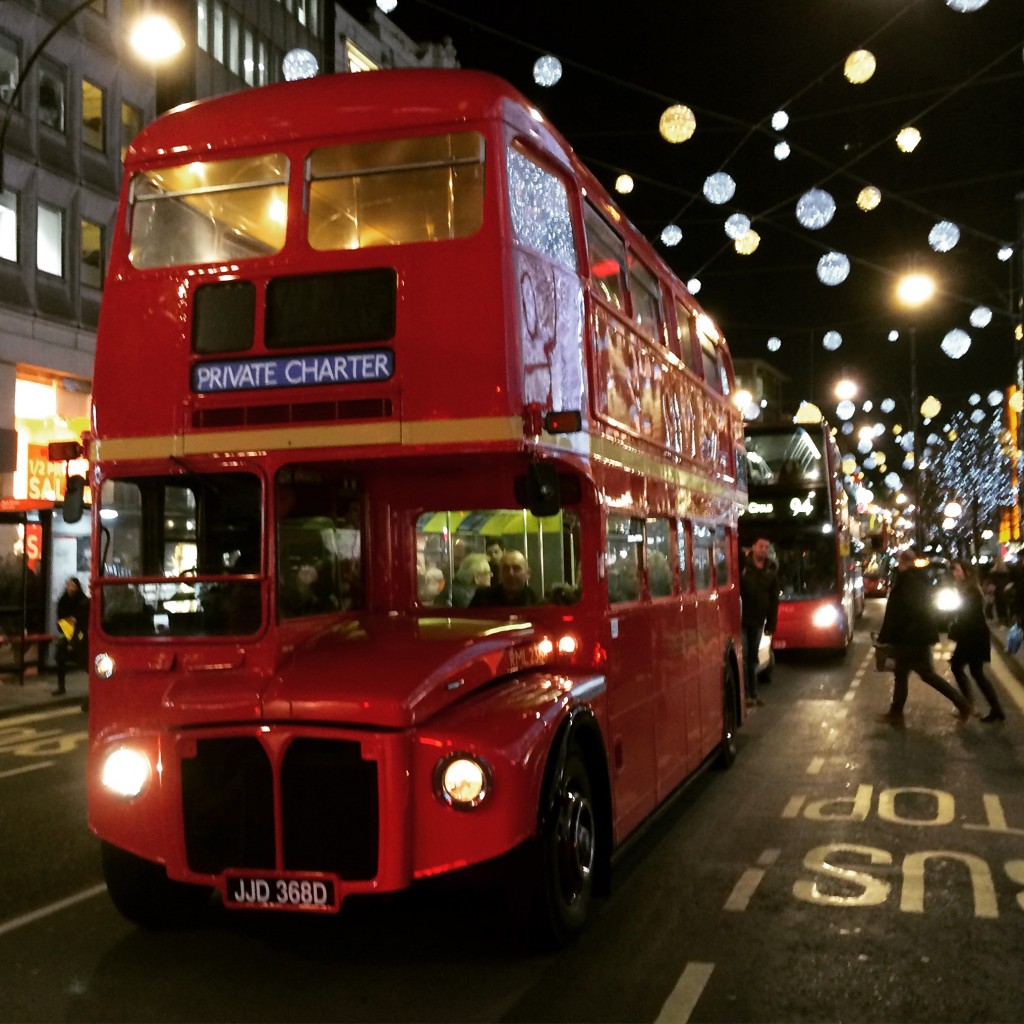 "Victoria Events were incredibly flexible, and tailored a bespoke tour to fit our requirements"
The first part of the route is Oxford St. to drive through the Christmas Lights (always a very popular choice for a vintage bus tour in December). Then we proceed through Regent St, Piccadilly, Haymarket to Trafalgar Square! Seeing all the local theatres on the way (theatre trips are another popular reason to hire a vintage Routemaster, if you'd like to arrange something like this why not get in contact). As we pass through Piccadilly the advertising boards light up the inside of the Routemaster. After Trafalgar Square we drive through Whitehall and up to Westminster to see Big Ben & the Houses of Parliament!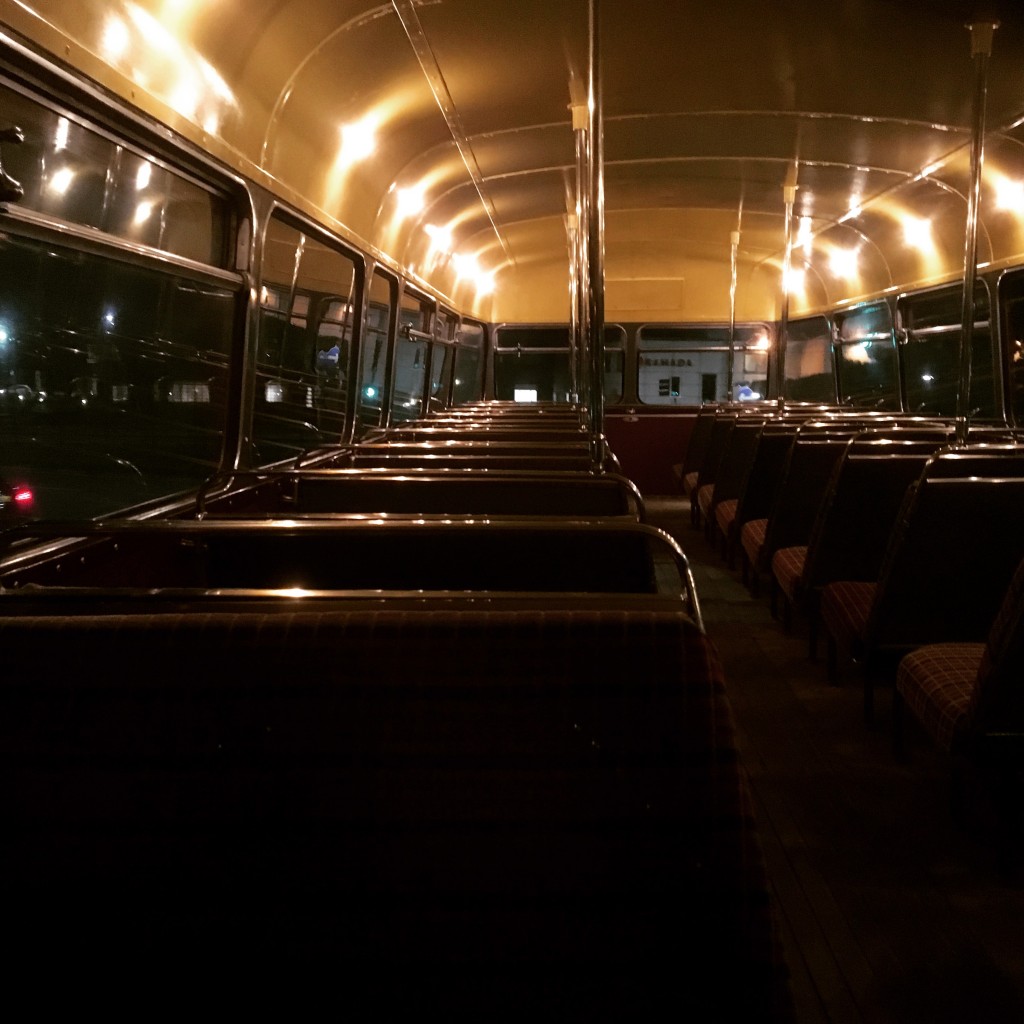 "The only way to see London properly is on the top deck of a Routemaster bus"
As we proceed over Lambeth Bridge and back over Westminster bridge we can see the London Eye lit up in Waterloo. A number of boats are passing underneath the bridge, providing passengers with a similar view of London, but not as much to see as the top deck of a vintage bus. Everything is visible from our traditional vintage London Routemaster (see more examples of the Routemaster here). We head back up Whitehall and continue down the Strand, waving to the passengers of another privately hired Routemaster as we pass. The pubs and restaurants are brimming with life as people enjoy their Christmas holidays and the atmosphere of London. The glamour of the capital is intoxicating.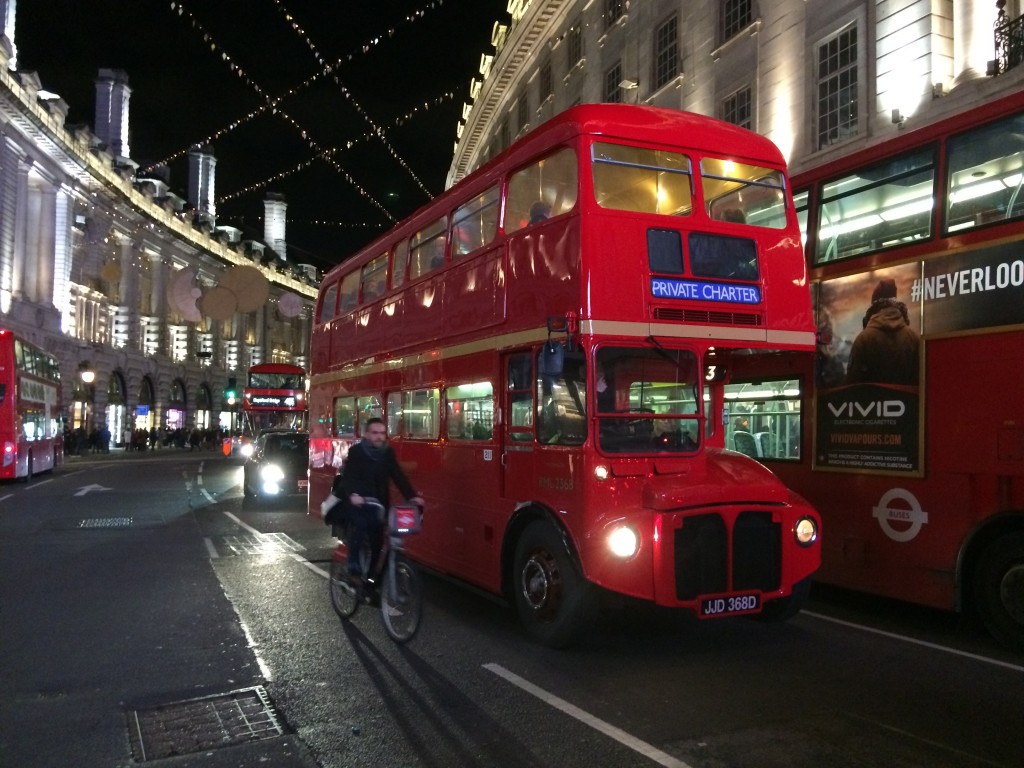 'I never get tired of seeing London, I would get a bus everywhere if I could'
We finish our journey with the Tower of London and begin to head back to drop off our passengers after a safe and satisfying tour of London. The Routemaster is clearly happy to be back where she belongs navigating the traffic with ease. London glistens in the night as we make our way home, as it says goodbye to an old friend. At least until next time.
This is a fantastic example of what you can do with a London Routemaster (or any vintage bus for that matter!). But of course this is not exclusively the only service we provide (see more services here). If you are looking for vintage bus hire for a wedding, party, corporate event, proms or perhaps even film/tv/advertising why not get in contact with us! If you need any further info why not see our FAQ page. If you have decided we are the company for you, then why not request a quote! Our vehicles are available for hire in London (of course), Buckinghamshire, Hertfordshire, Oxfordshire, Surrey, Middlesex, Berkshire & Bedfordshire. We also service certain other areas, if your not sure just request a quote and we'll let you know if we can provide you with a vintage bus.