On 04/10/15, Victoria Events took part in the Amersham heritage running day. We provided our vintage ex-London single decker (also known as the RF) to run on a number of heritage routes that used to operate back when public transport was regulated and operated by government owned subsidiaries. In Buckinghamshire, the government operator of public transport was known as 'London Country'.
It was a beautiful day in Amersham, Buckinghamshire and our vintage single decker bus was glistening from having just been cleaned. We arrived at the location of the old Amersham bus depot (just by Amersham metropolitan train station, which many use to quickly enter London). We arrived and set our bus for departure and left after loading our passengers. Our first trip was on route 397 to Cholesbury via Chesham. We stopped at both Cholesbury and Chesham for some quick photos (see below) Our bus was right at home in the Buckinghamshire country side and many complimented us on the comfort and condition of our little single decker vintage bus.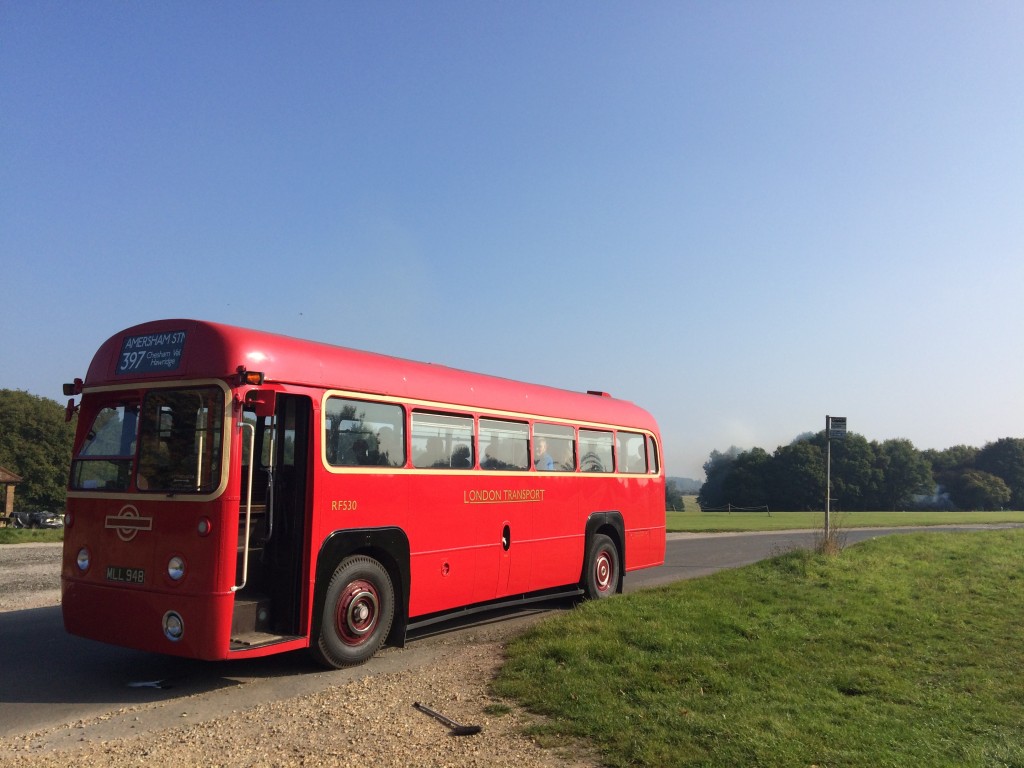 "This bus is immaculate"
We returned to Amersham to drop our passengers off as they thanked us for the journey. Our father-son team quickly swapped driver and changed the route blinds, the next trip was to be on route 336 to Chorleywood. The route was not easy, putting our vintage single decker bus through its paces, the 1952 ex-London RF has no power steering and a pre-select gear box, this can make the drive challenging through narrow country lanes. But our drivers are so experienced in taking these vehicles to all parts of the country for weddings that there are never any problems. But it also took our passengers through some of the most beautiful parts of Buckinghamshire. At one point there was even a guided tour of the local scenery from a passenger who was familiar with the local area.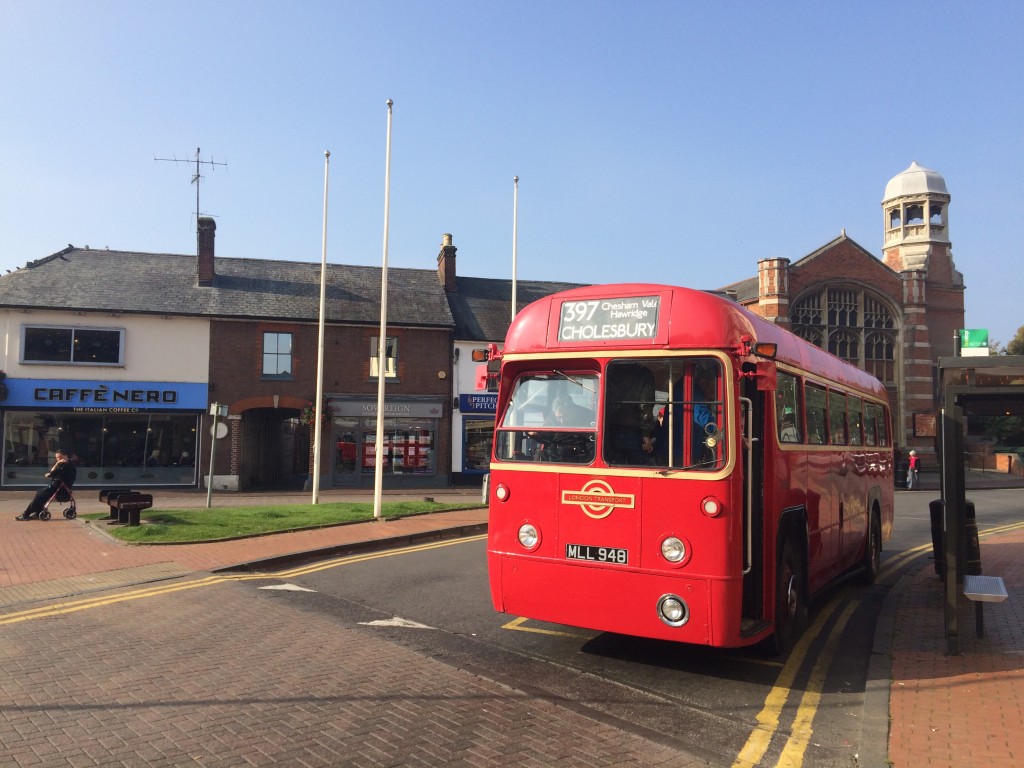 "The crew were very friendly and the comfort of the drive was excellent"
Once again, after another successful and nostalgic trip through Buckinghamshire. The one arrived again at Amersham. The crew parked up for a brief break to ensure they didn't exceed their driving hours. Shortly after the little ex-London RF was off again and once more it was a full load again. It was another trip on route 336 but this time the journey continued to Rickmansworth. All these routes were ex London Country through Buckinghamshire. The bus dropped off its final load of satisfied passengers and began its journey home in High Wycombe, Buckinghamshire for a well deserved rest. 8 hours is a long time for a single decker vintage bus to be out on the road carrying passengers, particularly when you consider that the ex-London RF is over 63 years old! Our bus didn't miss a beat however as all our buses are maintained to a very high standard.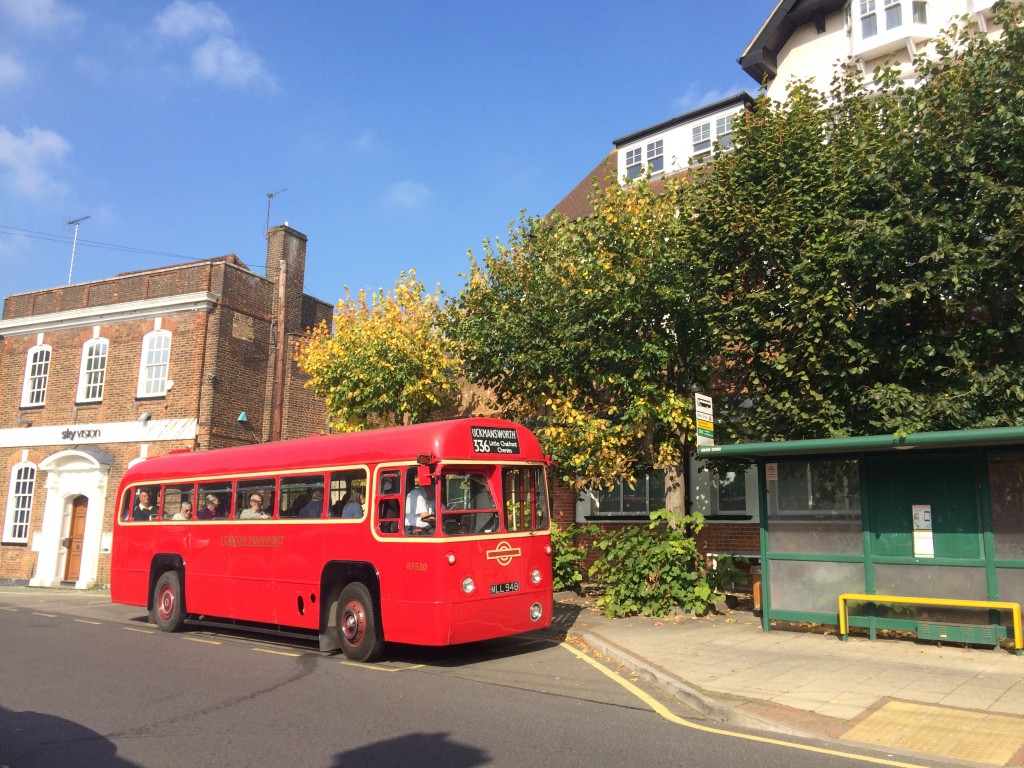 "I was very content under the care of these drivers and the bus was very impressive. It reminded me of when I used to get buses as a child"
We are members of the Amersham & District Motorbus society and this is just one of the yearly events we attend with our vintage buses. If you are booking a vintage bus for a wedding, private tour, prom, birthday etc (see our services for more details) but you want to see one of our vintage buses in the flesh (you can also see our buses here); why not attend one of local Buckinghamshire events for a great day where you can also meet the Victoria Events vintages buses and crew. (Or if you would just like to arrange a viewing get in contact). Many of the Amersham & District Motorbus Socirty are within our Areas Covered. If you have any questions for the Victoria Events team you can always check our FAQ or get in contact. Otherwise if this blog has interested you, why not request a quote for a hire of your own!